Remembrance Day 100 years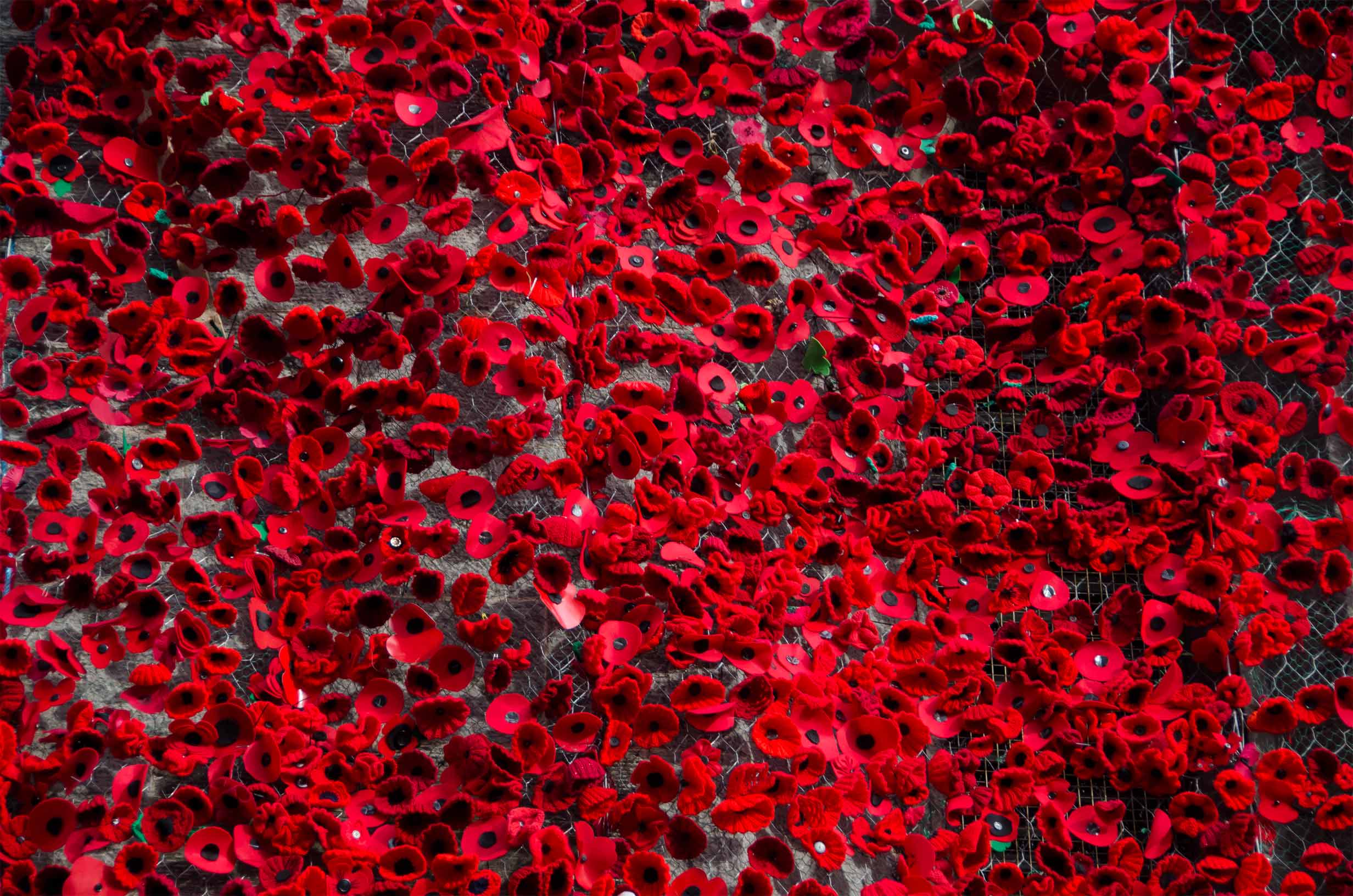 In the Great War, the War to End All Wars, 1914-1918, ended with an armistice on the 11th hour of the 11th day of the 11th month. In the UK, on the one year anniversary of the armistice, King George V held the first official armistice events in the grounds of Buckingham Palace, and at that time marked the first 2-minute silence.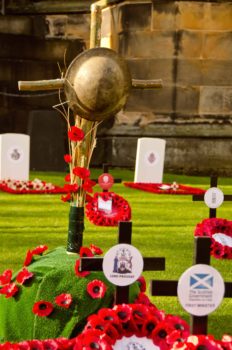 Nowadays, Remembrance Sunday in the UK is the Sunday nearest to Armistice Day. The day changed in 1939 when, at the beginning of World War II the UK government moved it so that it would not interfere with production.  So in the UK the traditional 2-minute silence in remembrance, now, of all killed or wounded ex-servicemen and women, happens at 11am on Remembrance Sunday.
Fittingly, on this 100th anniversary of the first armistice, Remembrance Day falls on 11th November.
There is also a tradition of wearing poppies and of laying poppy wreaths at our war memorials. For more information on poppies in Edinburgh, look at my blog post.
Liberton Kirk
In Edinburgh, some exceptional memorials have been created this year to mark the 100 year anniversary. At Liberton Kirk a beautiful display of 16000 knitted, crocheted and paper flowers adorns the church, created and sent from countries around the world.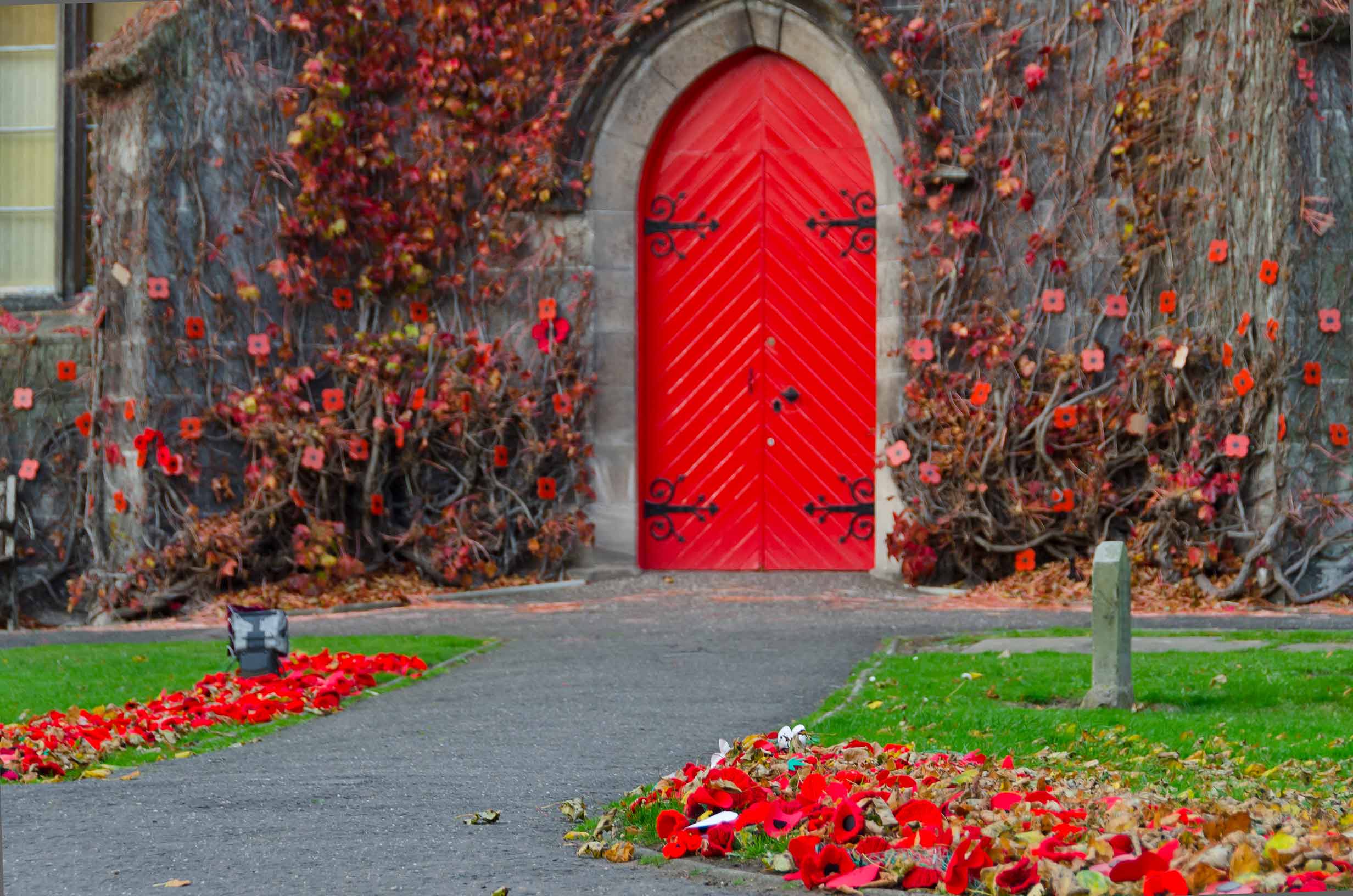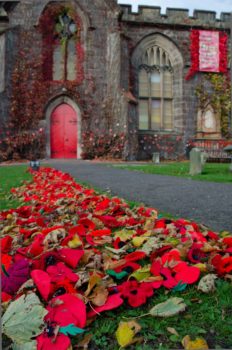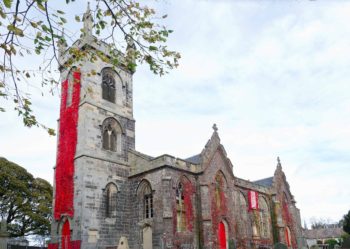 As I was taking photos, I met one of the ladies who, with her group, had knitted 400 of these poppies.  These knitters and crocheters have put a lot of work and dedication to create this astounding scene. The display will continue until Sunday 18 November – you can take a 25 minute bus ride on the 67 bus from the Mound at Princes Street to see it.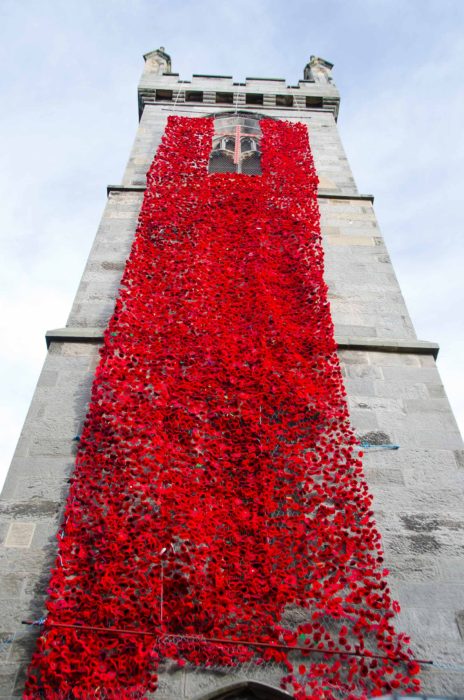 Scott Monument
On Princes Street, beside the Scott monument, rows of crosses reminiscent of the gravestones in northern France, each with a poppy, represent the dead and wounded of war.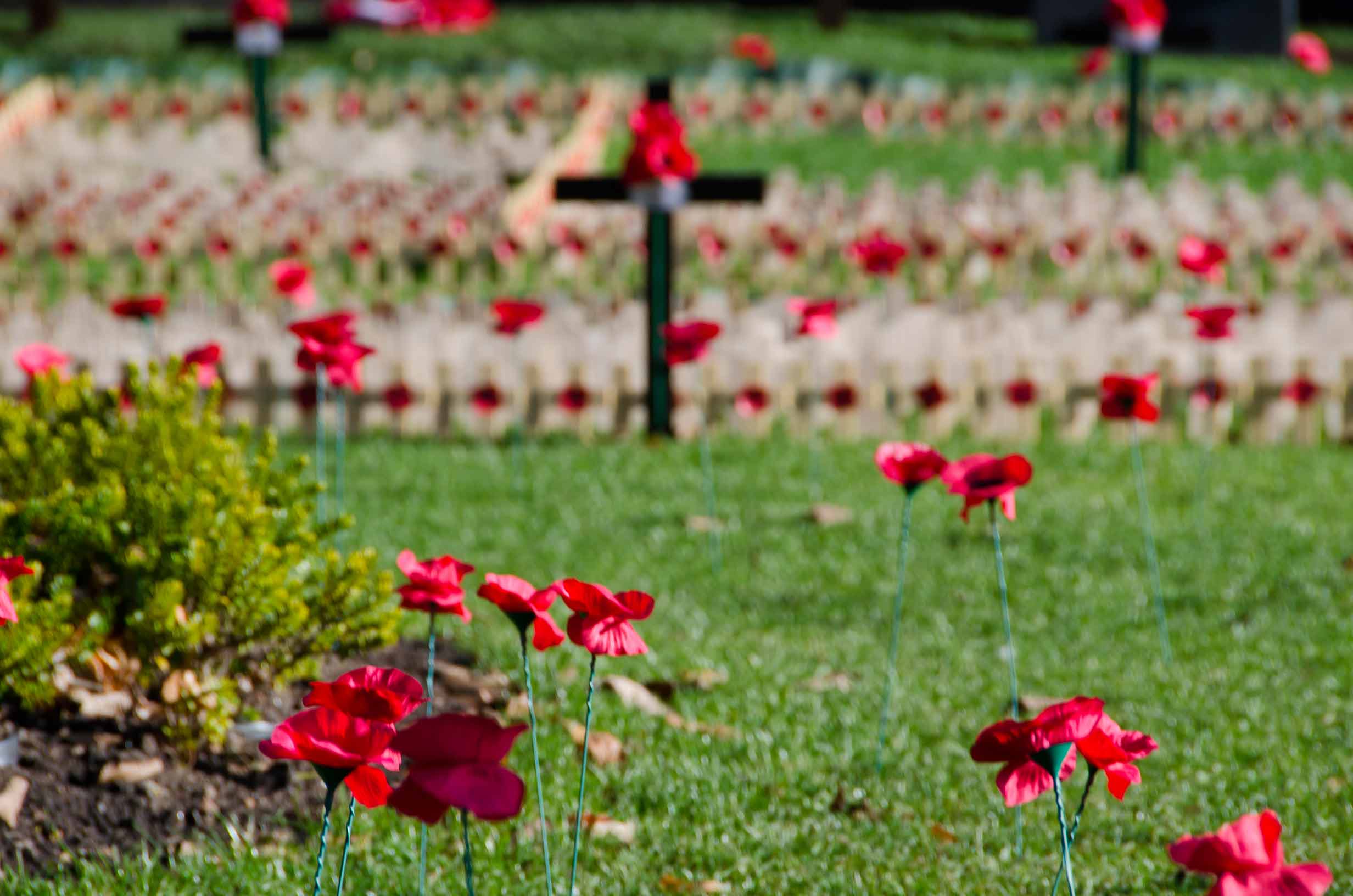 This is organised by Poppy Scotland, and I had the honour of talking to two of our ex-servicemen when I visited the memorial.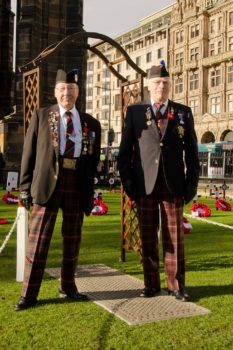 Visitors are invited to dedicate on of the crosses to a dear one killed or wounded in war.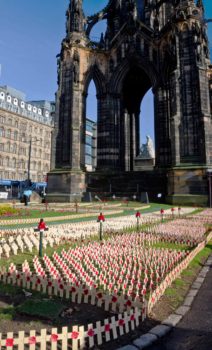 To commemorate the 100 year anniversary, there will be a concert of remembrance at the Assembly Rooms at 7:30pm on Friday, 9 November. You can buy tickets here.
This year, the Remembrance parade, led by war veterans, will leave Edinburgh Castle at 10:30.  After laying wreaths at the stone of remembrance outside Edinburgh City Chambers, the parade will continue to a service in St Giles Cathedral.  It is open to the public, and begins at 11:30am. The Edinburgh Castle gun will fire at 11:00am and 11:02am to mark the start and end of the silence.
They shall grow not old, as we that are left grow old:
Age shall not weary them, nor the years condemn.
At the going down of the sun and in the morning
We will remember them.
– Robert L. Binyon